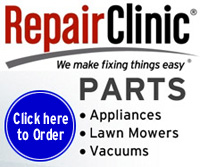 Due to high costs for keeping this site running, please consider making a donation.
Amazon gift card for Mothers Day
How to get your lawnmower ready for spring and MUCH, MUCH, MUCH more!
The Great Spring Tune-Up Kit Sale

My Model Numbers - Saved just for you for future reference
Newer Washer Spring And Idler Pulley
This is a picture of a newer style washer spring and idler pulley. The belt is off the washer and the idler pulley and spring are at rest. On this washer, the spring end was hooked into the 3rd hole from the front. The washing machines belt was removed for this picture.
Hope this helps.
Click on the picture for a larger view
Click on the picture for a larger view
33 - SPRING-TORSION (SPRING)
34 - SLEEVE-IDLER (SLEEVE)
35 - RING-RETAINING (RING)
36 - WASHER-PIVOT SHAFT (WASHER)
37 - WASHER-SPRING (WASHER)
---
More washing machine parts...