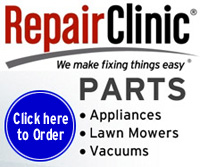 Due to high costs for keeping this site running, please consider making a donation.
Get a payday loan fast at Check Into Cash, a trusted payday advance lender. Apply Today!
Appliance repair help and repair parts...
Repair Help for Appliances, Lawn Mowers, HVAC and more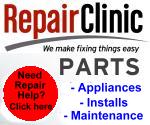 RepairClinic.com is the trusted online store with 1,000,000+ replacement parts and maintenance products for 160 appliance, outdoor power equipment and heating and cooling equipment brands

Heavily discounted items from HardwareandTools.com. No coupon code required.
Newer Washer Spring And Idler Pulley
This is a picture of a newer style washer spring and idler pulley. The belt is off the washer and the idler pulley and spring are at rest. On this washer, the spring end was hooked into the 3rd hole from the front. The washing machines belt was removed for this picture.
Hope this helps.
Click on the picture for a larger view
Click on the picture for a larger view
33 - SPRING-TORSION (SPRING)
34 - SLEEVE-IDLER (SLEEVE)
35 - RING-RETAINING (RING)
36 - WASHER-PIVOT SHAFT (WASHER)
37 - WASHER-SPRING (WASHER)
---
More washing machine parts...