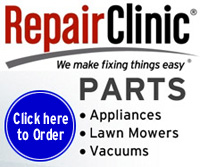 Due to high costs for keeping this site running, please consider making a donation.
Friday, September 4th is Force Friday! Go to Walmart.com for the latest Star Wars movies and to relive earlier movies and TV shows on DVD, Blu-ray and Video on Demand by VUDU. You'll also find exciting Star Wars video games, Star Wars books and Star Wars toys, including action figures, LEGO Star Wars sets and more. You can even deck out your home with Star Wars-themed bedding and wall art. Plus, even more exciting news, you'll find a bunch of new Star Wars products and Walmart.com exclusives! In addition, you can get free shipping on orders $50+. And may the Force be with you!
Star Wars- A New Generation is here. Be part of the story & save big at Walmart.com!
Appliance repair help and repair parts...
RepairClinic.com is the trusted online store with 1,000,000+ replacement parts and maintenance products for 160 appliance, outdoor power equipment and heating and cooling equipment brands

Newer Washer Spring And Idler Pulley
This is a picture of a newer style washer spring and idler pulley. The belt is off the washer and the idler pulley and spring are at rest. On this washer, the spring end was hooked into the 3rd hole from the front. The washing machines belt was removed for this picture.
Hope this helps.
Click on the picture for a larger view
Click on the picture for a larger view
33 - SPRING-TORSION (SPRING)
34 - SLEEVE-IDLER (SLEEVE)
35 - RING-RETAINING (RING)
36 - WASHER-PIVOT SHAFT (WASHER)
37 - WASHER-SPRING (WASHER)
---
More washing machine parts...