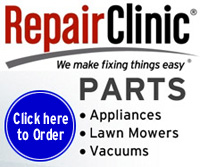 Due to high costs for keeping this site running, please consider making a donation.
A little today will help to ensure we will still be here tomorrow!
A snowblower makes it easy to clear snow from walkways, driveways and other areas. Like other outdoor power equipment, the snowblower must be properly maintained for safety purposes and in order to operate efficiently.
Newer Washer Spring And Idler Pulley
This is a picture of a newer style washer spring and idler pulley. The belt is off the washer and the idler pulley and spring are at rest. On this washer, the spring end was hooked into the 3rd hole from the front. The washing machines belt was removed for this picture.
Hope this helps.
Click on the picture for a larger view
Click on the picture for a larger view
33 - SPRING-TORSION (SPRING)
34 - SLEEVE-IDLER (SLEEVE)
35 - RING-RETAINING (RING)
36 - WASHER-PIVOT SHAFT (WASHER)
37 - WASHER-SPRING (WASHER)
---