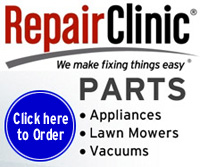 Due to high costs for keeping this site running, please consider making a donation.
Save on Back to College Shopping at Walmart.com!
More Everyday Beauty and Health Items for Back to College Available at Walmart.com!
Find School Supplies at a Great Price at Walmart.com!
Dishwasher repair help and repair parts...
Dishwasher References - Dishwasher Maintenance Tips - Frequently Asked Questions

Glowing Ice Cubes - Pink
$19.99
Light up the night with our?pink glowing ice cubes. They are perfect for parties, special occasions and can be...[Read More]
Newer Washer Spring And Idler Pulley
This is a picture of a newer style washer spring and idler pulley. The belt is off the washer and the idler pulley and spring are at rest. On this washer, the spring end was hooked into the 3rd hole from the front. The washing machines belt was removed for this picture.
Hope this helps.
Click on the picture for a larger view
Click on the picture for a larger view
33 - SPRING-TORSION (SPRING)
34 - SLEEVE-IDLER (SLEEVE)
35 - RING-RETAINING (RING)
36 - WASHER-PIVOT SHAFT (WASHER)
37 - WASHER-SPRING (WASHER)
---
More washing machine parts...