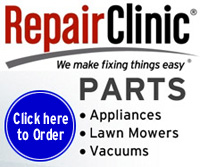 Due to high costs for keeping this site running, please consider making a donation.
Amazon gift card for Mothers Day
How to get your lawnmower ready for spring and MUCH, MUCH, MUCH more!
The Great Spring Tune-Up Kit Sale

My Model Numbers - Saved just for you for future reference
You can relax in the great outdoors with high-quality patio furniture, garden furniture and outdoor furniture from Walmart.com! Plus, we stock up on other great outdoor essentials to keep the fun going all Spring. They can still enjoy free shipping on all orders of $50 or more at Walmart.com
More Outdoor Essentials Now on Rollback at Walmart.com!
Save $100 on the Mainstays Crossman 7-Piece Patio Dining Set at Walmart.com!
Shutter 7-Piece Patio Dining Set, Seats 6 - Was $899, Now Only $799 at Walmart.com!
Noisy Dryer
My dryer is making a noise, should I fix it now? Or can I put this off until it "really" breaks?
I wish I had a nickel for every time I heard this!!
I went on a service call and found an extreme case of "putting it off" until it "really" breaks.
The front glides where worn out on this dryer, the customer kept using the dryer. The drum started to wear into the support for the front glides, the customer kept on using the dryer. The drum started to grind through the front of the dryer, the drum actually ground a hole into the door and once the drum dropped enough, it actually ground a hole in the side of the cabinet.
At what point do you think..."I may have a problem"?...the screeching noises, the fact the drum is falling out of the front of the dryer!
Luckily, Maytag dryer parts are easy to come by. Not only that, but they are easy to install too.
Fix the trouble maker when it begins to give you problems...an ounce of prevention can stop a pound of cure.
The customer had to replace this 6 year old dryer because they thought the terrible noises would "go away"
---
Dryer Parts