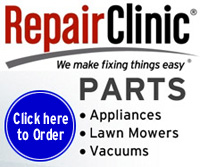 Due to high costs for keeping this site running, please consider making a donation.
It's On! Find Big Deals Before Black Friday at Walmart.com
Pre-Black Friday at Walmart.com- Find Big Deals before the Big Day!
Pre-Black Friday is On at Walmart.com! Find Big Deals before the Big Day
Dryer repair help and repair parts...
Dryer References - Dryer Maintenance Tips - Frequently Asked Questions

This Black Friday, win the day with our best deals of the year at Walmart.com!
Shop Black Friday Deals at Walmart.com!
Thanksgiving Day is coming!!
Cookies From Home
Find the tackiest sweater you can imagine at UglyChristmasSweater.com today!
Oven Temperature Calibration
A very common Electronic control with scroll arrows or a turn dial for setting the oven temperature:

To adjust calibration:
Press BAKE pad
Select any temperature above 500 degrees F
QUICKLY press and hold the BAKE pad approximately 5 seconds until "00" or the previously entered temperature is displayed
Tap the arrow up or down pad to change the oven temperature +35 or -35 degrees in 5 degree steps.

*
* Some clocks have a turn dial instead of arrow pads
---
A common GE clock/control

How to adjust the temp on this control
Ensure the selector switch is turned off
Hold the up and down arrows at the same time for 5 seconds until flashing "00" is displayed
Press up arrow to increase temperature in the oven
Press down arrow to decrease temperature in the oven
Once the temperature is changed, once neither up or down pad has been pressed for 5 seconds the clock will save the new temperature and go back to the time of the day.
---
A common GE clock/control

Press: Bake and Broil at the same time for two seconds until the display shows "SF"
Press: Bake once to increase temperature
Press: Bake again to decrease temperature
Adjust: Temperature with: Number pads
Press: Start
The oven temperature can be adjusted up or down 35 degrees F / 20 degrees C. Use this feature if you think your oven is too hot or too cold. This adjustment will stay in memory.
---
Range manuals
Don't know a thermostat valve from a safety valve? We'll help you figure it out! Our cooking manuals cover a wide selection of gas and electric models of ovens and cook tops, ranges and stoves, self-cleaners and convection ovens.
Range/Stove/Oven Parts