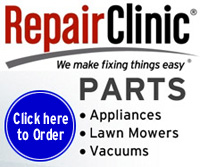 Due to high costs for keeping this site running, please consider making a donation.
It's On! Find Big Deals Before Black Friday at Walmart.com
Pre-Black Friday at Walmart.com- Find Big Deals before the Big Day!
Pre-Black Friday is On at Walmart.com! Find Big Deals before the Big Day
Dishwasher repair help and repair parts...
Dishwasher References - Dishwashre Maintenance Tips - Frequently Asked Questions

This Black Friday, win the day with our best deals of the year at Walmart.com!
Shop Black Friday Deals at Walmart.com!
Christmas Day is coming!!
Cookies From Home
Find the tackiest sweater you can imagine at UglyChristmasSweater.com today!
Oven Temperature Sensor Replacement
Changing a typical oven temp sensor....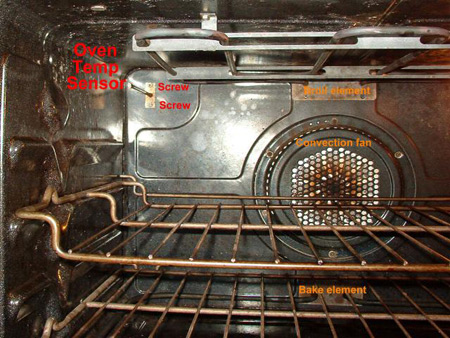 Click on the picture for a larger view
Remove power first.
Due to productions changes and continuous improvements, it may be necessary to use an adaptor wire harness or wire nuts for a compatible connection.
Remove screws from inside the oven ( some newer models like Frigidaire/Kenmore have the 2 screws on the outside at the back ) and pull towards you the inoperative sensor.
If the connection on the sensor or the wire harness is not applicable to your model, use two ceramic hi-temp wire nut connectors to splice the wires together. Strip insulation on each wire approximately 1/2" from the end. On some models, the sensor may be serviced from the front, on others the hole in the oven liner is not large enough for the wire nut/connector to pass through and must be serviced from the rear.
Important: Make sure the wire nuts/connectors are completely through the insulation and not touching the back of the oven cavity.
Once the wire nuts/connectors are properly positioned, reinstall the sensor screws removed earlier.
---
Range manuals
Don't know a thermostat valve from a safety valve? We'll help you figure it out! Our cooking manuals cover a wide selection of gas and electric models of ovens and cook tops, ranges and stoves, self-cleaners and convection ovens.
Range/Stove/Oven Parts