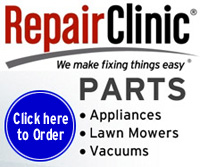 Due to high costs for keeping this site running, please consider making a donation.
A little today will help to ensure we will still be here tomorrow!
12% Extra Discount on K9 Advantix at CanadaPetCare. Limited Stock for discounted price is available for Coupon Code-CPC12ON. Get Free Shipping on all order in USA. Guaranteed Cheapest. Shop Now
Oven Temperature Sensor Replacement
Changing a typical oven temp sensor....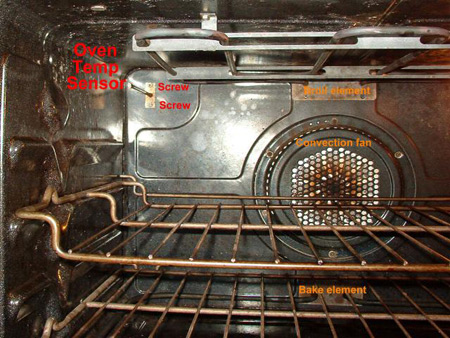 Click on the picture for a larger view
Remove power first.
Due to productions changes and continuous improvements, it may be necessary to use an adaptor wire harness or wire nuts for a compatible connection.
Remove screws from inside the oven ( some newer models like Frigidaire/Kenmore have the 2 screws on the outside at the back ) and pull towards you the inoperative sensor.
If the connection on the sensor or the wire harness is not applicable to your model, use two ceramic hi-temp wire nut connectors to splice the wires together. Strip insulation on each wire approximately 1/2" from the end. On some models, the sensor may be serviced from the front, on others the hole in the oven liner is not large enough for the wire nut/connector to pass through and must be serviced from the rear.
Important: Make sure the wire nuts/connectors are completely through the insulation and not touching the back of the oven cavity.
Once the wire nuts/connectors are properly positioned, reinstall the sensor screws removed earlier.
---
Don't know a thermostat valve from a safety valve? We'll help you figure it out! Our cooking manuals cover a wide selection of gas and electric models of ovens and cook tops, ranges and stoves, self-cleaners and convection ovens.