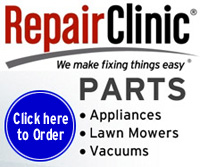 Due to high costs for keeping this site running, please consider making a donation.
Shop Labor Day Online Specials at Walmart.com!
Find Even Bigger Savings with Labor Day Online Specials at Walmart.com!
Dishwasher repair help and repair parts...
Dishwasher References - Dishwasher Maintenance Tips - Frequently Asked Questions

Parts for Dishwashers
Below are resources for determining your model number for your dishwasher, finding the dishwasher part you need, and lists of commonly replaced parts for various brands of dishwashers.
Whirlpool, Kitchen Aid and some Kenmore
Maytag, Magic Chef, Performa and some Jenn Air
Frigidaire, Tappan, Kelvinator, White Westinghouse
Portable d/w hose coupler repair kits
Find your part with RepairClinic.com's Shop for Parts feature.
Search by part number or model number for best results.
If you don't know your model number - try searching by appliance type, brand or part type.
Dishwasher Parts and Accessories:
Build in kits copper

Item Number 5303310263

Stainless steel build in kits

Item Number W10278635RP

Rack repair kits, available in white, blue and gray

Item Number 5303310272

Glisten dishwasher cleaner

Item Number 5303310272

D/w air gap drain

Item Number 300096

D/w air gap drain

Item Number 86-020

Universal port d/w drain & fill hose set

Item Number 303650

Portable fill valve

Item Number 661511

Affresh Dishwasher and Disposal Cleaner

Item Number W10282479

Glass Magic dishwasher detergent

Item Number 4172141
Whirlpool, Kitchen Aid and some Kenmore:
Motor & pump assy

Item Number W10428023

Sideways motor & pump assy

Item Number W10247394

Hanging Whirlpool style silverware basket

Item Number 304779

Whirlpool door mounted silverware basket

Item Number 3369488

Kitchen-Aid silverware basket with handles

Item Number 8519598

WLP impellor seal kit

Item Number 8193529

WLP wash impellor kit

Item Number 675806

WLP sidewind motor seal kit

Item Number 4386996

KitchenAid older seal kit

Item Number 4162139

WLP seal tool helps center and install the pump seal

Item Number 303918

Fill valve - built in

Item Number 303650

Upper spray arm fill hose ( blue hose ) for older KA d/w's

Item Number 4171544

Common door spring with metal link

Item Number 675611

Thermal fuse for electronic d/w

Item Number 675796
Maytag, Magic Chef, Performa and some Jenn Air:
Maytag blue silverware basket

Item Number Y912919

Maytag gray silverware basket

Item Number 6-918873

Maytag d/w seal kit 04 series 902598 motor & pump and with current 99001068 motor & pump

Item Number 12001098

Maytag pump kit - belt drive

Item Number 901109

Maytag d/w drain hose, small entrance port

Item Number Y913158

Maytag d/w drain hose, large entrance port

Item Number 99001782

Motor & pump assy1

Item Number 6-904608

Motor & pump assy2

Item Number 902598

Maytag, MagicChef some Jenn-Air & Performa d/w sideways motor and pump assy

Item Number 6-905330

Fill valve - dual coil - built in

Item Number 901298

Fill valve - single coil - built in

Item Number 902543

Belt for belt driven pump module

Item Number 6-9021150

Wax motor for soap dispenser & rinse agent dispenser

Item Number 902899

Older round soap dispenser

Item Number 901839

Newer style grommet and latch gasket kit for the soap dispenser ( this is a common leaking trouble maker )

Item Number 99001551

Older porcelain on metal liner door gasket

Item Number 901403

Newer plastic liner door gasket - black in color

Item Number 902894

Older style door spring

Item Number 901111

Maytag newer d/w door spring

Item Number 912652

Maytag d/w door link for the new style spring

Item Number 912653

Blue rack touch up

Item Number DWR-B

White rack touch up

Item Number DWR-W
GE, Hotpoint, Moffat, McClary:
GE take-apart silverware basket

Item Number WD28X265

Motor and pump assy

Item Number WD26X10013

GE pump assy seal kit

Item Number WD19X10032

GE d/w drain solenoid kit

Item Number WD21X802

Fill valve - built in

Item Number WD15X93

Door spring cable

Item Number WD7X14

Inlet sump boot

Item Number WD18X213
Frigidaire, Tappan, Kelvinator, White Westinghouse
Frigidaire D&M style silverware basket

Item Number 5309951569

Frigidaire - D&M seal kit

Item Number 5300808042

Frigidaire - D&M seal kit

Item Number 5300809110

Frigidaire - D&M seal kit

Item Number 5300809116

Frigidaire - D&M seal kit

Item Number 5300809909

Frigidaire - D&M seal kit

Item Number 5300809910

Frigidaire newer wash motor and impellor

Item Number 154859501

Frigidaire newer drain pump motor

Item Number 5304475805

Frigidaire seal - impellor remover and install tool

Item Number 154154801

Common door gasket 1

Item Number 5300809611

Common door gasket 2

Item Number 5300809035

Door latch assembly with switches, white

Item Number 5304442173

Door latch assembly with switches, black

Item Number 5304442175

Fill valve - built in

Item Number 5300808960
Portable d/w hose coupler repair kits
Whirlpool built d/w coupler repair kit

Item Number 285170

Coupler gasket - fits many makes ( this is inside the coupler body )

Item Number 910218

Whirlpool built d/w coupler repair kit 2

Item Number 675164

GE built d/w adaptor repair kit

Item Number WD35X181

GE built d/w adaptor repair kit 2

Item Number WD35M27

Frigidaire - D&M built d/w adaptor repair kit

Item Number 5300809139
---
Dryer Parts