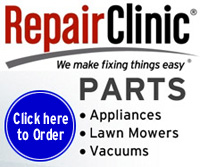 Due to high costs for keeping this site running, please consider making a donation.
Shop fall fashion for the whole family at Walmart.com!
Shop Women's Fall Fashion Essentials at Walmart.com!
Save on Men's Fall Fashion at Walmart.com!
Shop Kids' Fall Fashion for Less at Walmart.com!
Dryer repair help and repair parts...
Dryer References - Dryer Maintenance Tips - Frequently Asked Questions

Shop Amazon - Fall Grooming Guide Presented by Men's Fitness
Shop Pets Halloween - Best-Selling Pet Costumes
Shop Amazon - Women's Halloween Costumes
Shop Amazon - Men's Halloween Costumes
Shop Amazon - Baby Halloween Costumes
Parts for Dryers
Below are resources for determining your model number for your dryer, finding the dryer part you need, and lists of commonly replaced parts for various brands of dryers.
Whirlpool, Inglis, Kitchen Aid, Roper and some Kenmore dryer parts
Maytag, Magic Chef, Norge, & some Wards, Admiral dryers
Frigidaire, WhiteWestinghouse, some Wards
Who made my Kenmore help...grab your model# and check out this chart.
Find your part with RepairClinic.com's Shop for Parts feature.
Search by part number or model number for best results.
If you don't know your model number - try searching by appliance type, brand or part type.
Dryer Accessories:
LintEater Rotary Dryer Vent Cleaning Kit

Item Number RLE202

10 Foot Vent Cleaning Brush

Item Number 18001033

20 Foot Vent Cleaning Brush

Item Number 18001034

Exhaust Duct

Item Number RVHAW4

Dryer cord, 4 feet, 30 amp, 3 wire

Item Number WX9X2

Dryer power cord, 4 feet, 30 amp, 4 wire

Item Number WX9X18
Whirlpool, Inglis, Kitchen Aid, Roper and some Kenmore dryer parts
Common dryer door latch & catch

Item Number 279570

Safety thermostat and high limit

Item Number 279769

Dryer drum & bulk head paint

Item Number 350938

Most common dryer belt

Item Number 341241

Dryer tune up kit - 2 roller style

Item Number 4392065

Dryer tune up kit - 4 roller style

Item Number 4392067

Dryer idler pulley

Item Number 691366

Drum roller wheels

Item Number 349241T

Top style pull out lint filter

Item Number 8557884

Common dryer motor

Item Number 279827

Newer style motor

Item Number 279787

Heating element Long

Item Number 4391960

Thermal fuse 1

Item Number 3392519

Thermal fuse 2

Item Number 3390719

Common timer knob - chrome

Item Number 688865

Door switch with bracket

Item Number 279347

Power resistor kit for dryer timer

Item Number 279872

Coils for the gas valve

Item Number 279834

Gas dryer igniter kit

Item Number 279311
Maytag, Magic Chef, Norge, & some Wards, Admiral dryers
Thermal fuse - Dependable care style

Item Number 3390719

Maytag fan blower - Dependable care style

Item Number Y303836

Drum roller wheels - Dependable care style

Item Number 12001541

Front drum support glide

Item Number 306508

Maytag belt older style multi rib belt - Dependable care style

Item Number Y312959

Multi-Rib Belt used on newer Maytag brands gas and electric clothes dryers. Measures 91-5/8 inches long, 3/8 inches wide and has 5 ridges.

Item Number 33002535

Coils for the gas valve

Item Number 279834

Gas igniter glow bar

Item Number 4391996

Magic Chef, Norge, Admiral fan blower

Item Number 53-0106

Magic Chef, Admiral, Norge drum rollers

Item Number LA-1008

Magic Chef, Norge, Admiral front drum glides

Item Number LA-1006

MC, Norge, Admiral heating element

Item Number LA-1044

Maytag Performa idler pulley

Item Number 31001344

Maytag heating element - coil only - dependable care style

Item Number Y313538

Motor commonly used on Maytag brand gas and electric clothes dryers

Item Number Y303358

Motor Assembly commonly used on Norge style Maytag brands clothes dryers made after to 1993. Includes drive pulley

Item Number 31001015

Motor commonly used on Norge style Maytag brands clothes dryers made prior to 1993. Includes No. 53-1041 motor - two No. 53-0214 motor clamps and drive pulley

Item Number LA-1004

Motor Assembly used on some newer Maytag brands clothes dryers

Item Number 33002478

Magic Chef, Norge, Performa thermal fuse kit

Item Number LA-1053
Frigidaire, WhiteWestinghouse, some Wards
Frigidaire, White Westinghouse dryer idler pulley

Item Number 5303212849

Frigidaire/White Westinghouse rear bearing

Item Number 5303281153

Frigidaire dryer element

Item Number 3937010

Frigidaire dryer ribbed belt

Item Number 134503600

Frigidaire, Westinghouse flat belt

Item Number 5303281154

Motor Left Hand Threaded Screw on Blower Includes Pulley for Ribbed Belt

Item Number 5303201237

Motor Left Hand Threaded Screw on Blower Includes Pulley for Ribbed Belt

Item Number 5303201237
GE, Hotpoint & some RCA
GE older style front drum glides

Item Number WE25X60

GE newer style front glides

Item Number WE1M481

GE rear drum bearing sleeve only

Item Number WE3X75

GE Heating element assembly, with housing

Item Number WE11X103

GE Heating element Dryer element restring kit

Item Number WE11X203

GE dryer safety fuse

Item Number WE4X800

GE dryer idler pulley

Item Number WE12X81

GE older Lint filter

Item Number WE18X26

GE Older style element coil only

Item Number WE11X260

GE older style gas igniter

Item Number WE4X444

GE newer style gas igniter

Item Number WE4X739

Gas coils for the gas valve

Item Number 279834

Genuine GE Dryer Motor 1/2" Shaft Diameter 1-5/16" x 1-13/16 Shaft Length

Item Number WE17X10010

Motor Assembly commonly used on GE brands gas and electric clothes dryers. Includes drive pulley

Item Number WE17X10010

GE older style rear drum bearing kit

Item Number WE25X205

GE dryer door handle - longer style

Item Number WE1M463

GE dryer door handle - shorter style

Item Number WE1M305

Dryer knob - white with red line

Item Number WH1X2721

Dryer knob almond with black line

Item Number WE1X1208
---
Dryer Parts