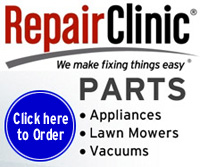 Due to high costs for keeping this site running, please consider making a donation.
Shop Amazon Cyber Monday Deals Week
Dishwasher repair help and repair parts...
Dishwasher References - Dishwashre Maintenance Tips - Frequently Asked Questions

Don't miss our best online specials at Walmart.com!
Cyber Monday Has Our Best Online Specials at Walmart.com!
Christmas Day is coming!!
Cookies From Home
Find the tackiest sweater you can imagine at UglyChristmasSweater.com today!
Parts for Electric Ranges
Below are resources for determining your model number for your electric range, finding the electric range part you need, and lists of commonly replaced parts for various brands of electric ranges.
Who made my Kenmore help...grab your model# and check out this chart.
Find your part with RepairClinic.com's Shop for Parts feature.
Search by part number or model number for best results.
If you don't know your model number - try searching by appliance type, brand or part type.
Electric Range Parts:
Maytag/Magic Chef/JennAir oven temp sensor long style

Item Number 12001656

Maytag/Magic Chef/JennAir oven temp sensor short style

Item Number 12001655

GE, Hotpoint older style oven temp sensor

Item Number WB21X158

GE, Hotpoint style oven temp sensor

Item Number WB21X5301

Whirlpool built style oven temp sensor

Item Number WB20X136

Whirlpool built style oven temp sensor thermal fuse

Item Number 4337930
If any doubt what temp sensor you may need, use the model # search at the top of this page
Universal drip pan SM

Item Number 5303310296

Universal drip pan LG

Item Number 5303310295

Chrome drip pan SM

Item Number 5303310275

Chrome drip pan LG

Item Number 316048413

Universal surface receptacle kit

Item Number 5303935058

Universal SM element

Item Number 5303310283

Universal LG surface element

Item Number 316442301

Canning element

Item Number 5303310285

Oven thermometer tester

Item Number 19950054

4 prong power cord

Item Number 74003216

Unversal push & turn surface switch

Item Number 5500-200

Universal surface switch non-push & turn

Item Number 5500-202

Ceran cooktop scraper

Item Number WA906B

Cooktop Cleaning Cream, gently cleans glass ceramic, stainless steel or glass cooktops

Item Number 31464

GE lock solenoid

Item Number WB24X5097

Jenn-Air surface receptacle kit

Item Number 12001676

Jenn-Air female contacts for the module

Item Number 702042K

Jenn-Air male contact for module

Item Number Y708572

Maytag, Jenn-Air surface element - small

Item Number Y04100165

Maytag, Jenn-Air surface element - large

Item Number Y04100166

Jenn-Air surface element switch

Item Number 700855K

Jenn Air Cartridge - Conventional Coil, Stainless Steel

Item Number JEA7000ADS

Jenn Air Cartridge - Conventional Coil, Black

Item Number JEA7000ADB

Jenn Air Griddle - Electric

Item Number A302

Jenn Air Cartridge - Radiant Element - Black

Item Number AR141B

Jenn Air Cartridge - Radiant Element - White

Item Number A122W

Jenn Air Cartridge - Radiant Element - Black

Item Number A122B

Jenn Air Cartridge - Energy Saver Electric Grill Assembly

Item Number A158

Jenn Air Grill Cover - Black

Item Number A341
Oven Elements:
Frigidaire bake element

Item Number 5303051519

Frigidaire bake element

Item Number 5309950885

Maytag, Magic Chef, JennAir Element

Item Number Y04000041

Maytag, Magic Chef, JennAir element

Item Number 715269

GE, Hotpoint element

Item Number WB44X5082

GE, Hotpoint element

Item Number WB44X228

Whirlpool, Kitchen Aid, Roper element

Item Number 866375

Whirlpool, Kitchen Aid, Roper element

Item Number 4328405
---
Dryer Parts