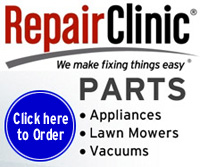 Due to high costs for keeping this site running, please consider making a donation.
Shop Mother's Day Gifts at Walmart.com!
Find Mother's Day Gifts for Less at Walmart.com!
Jewelry, Fragrances and More Mother's Day Gifts for Less at Walmart.com!
Appliance repair help and repair parts...
Repair Help for Appliances, Lawn Mowers, HVAC and more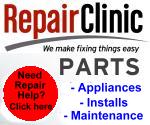 RepairClinic.com is the trusted online store with 1,000,000+ replacement parts and maintenance products for 160 appliance, outdoor power equipment and heating and cooling equipment brands

50% Off Retail Prices for Wine Club Members at Cellars Wine Club.
Cellars Wine Club
Get a payday loan fast at Check Into Cash, a trusted payday advance lender. Apply Today!
Parts for Gas Ranges
Below are resources for determining your model number for your gas range, finding the gas range part you need, and lists of commonly replaced parts for various brands of gas ranges.
Who made my Kenmore help...grab your model# and check out this chart.
Find your part with RepairClinic.com's Shop for Parts feature.
Search by part number or model number for best results.
If you don't know your model number - try searching by appliance type, brand or part type.
Gas Range Parts and Accessories:
Maytag flat oven igniter kit ( This kit replaces many makes & styles - almost universal for many flat igniters )

Item Number 12400035

GE round style oven igniter glow bar

Item Number WB2X9154

Frigidaire glow igniter

Item Number 5303935066

Amana, Caloric short igniter

Item Number 31939701

Amana, Caloric long igniter

Item Number 786324

Maytag style spark module

Item Number 12001596

Surface spark module

Item Number 1430322

Oven & surface spark module

Item Number 7431P011-60

Common gas safety valve - one burner

Item Number 4157094

Maytag/Magic Chef/JennAir oven temp sensor long style

Item Number 12001656

Maytag/Magic Chef/JennAir oven temp sensor short style

Item Number 12001655

GE, Hotpoint older style oven temp sensor

Item Number WB21X158

GE, Hotpoint style oven temp sensor

Item Number WB21X5301

Whirlpool built style oven temp sensor

Item Number WB20X136

Gas grate cleaner

Item Number 316119700

Surface Burner Igniter electrode with wire assembly for WLP style gas range

Item Number 4175453

Black Sealed burner Kit commonly used on Maytag brands gas ranges. Kit includes gasket and spark electrode.

Item Number 3412D024-09

Gas flex connector

Item Number 5305514147

Burner head & cap for double burners

Item Number W10125641

Jenn-Air burner kit

Item Number AG202MG

Jenn-Air Griddle for Gas Range - Designer Line

Item Number JGA8200ADX

Universal gas range round drip tray

Item Number 5303310279

Universal Chrome gas range drip pan square

Item Number 5303310277

Universal Porcelain gas range drip pan square

Item Number 316011401

Universal gas range surface knob kit

Item Number 19950032
---
Range/Stove/Oven Parts