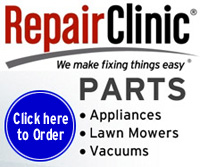 Due to high costs for keeping this site running, please consider making a donation.
Dryer repair help and repair parts...
Dryer References - Dryer Maintenance Tips - Frequently Asked Questions

Parts for Humidifiers
Below are resources for determining your model number for your humidifier, finding the humidifier part you need, and lists of commonly replaced parts for various brands of humidifiers.
Find your part with RepairClinic.com's Shop for Parts feature.
Search by part number or model number for best results.
If you don't know your model number - try searching by appliance type, brand or part type.
Humidifier Parts and Accessories:
Bacteriostatic water treatment; prevents the growth of odor-causing bacteria. For all filter and wick console and tabletop humidifiers

Item Number 1970

Hygrometer / Thermometer - Table stand or wall mount. Battery included. Humidity range 10% - 99%. Temperature range 14 to 122 degrees F. (Celsius switch)

Item Number 1990

Universal Humidifier Pad - Universal humidifier pad. 7-1/2 inches by 26-1/2 inches

Item Number 1990

Universal Humidifier Pad - Humidifier evaporative pad. 7 inches wide by 20 inches around

Item Number 65-5

4" Wide Humidifier Belt/Pad

Item Number VI410

6" Wide Humidifier Belt/Pad

Item Number 6HB-RPS

Aprilaire #10 Belt/Pad Replacement

Item Number 10

Lobb Replacement Element for WA-1 and Others

Item Number 234

Lobb Replacement Element for WA-2

Item Number 234

Space Gard Replacement Filter - Fits Space Gard Air Cleaner. Models 2200 & 2250 (201)

Item Number SGM
---