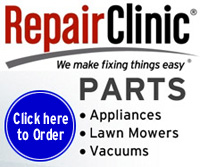 Due to high costs for keeping this site running, please consider making a donation.
Shop Grills Exclusive to Walmart
Shop Patio Furniture Collections at Walmart.com
Find Top Brands in Lawn and Garden at Walmart.com
Appliance repair help and repair parts...
Repair Help for Appliances, Lawn Mowers, HVAC and more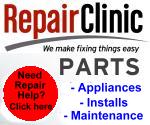 RepairClinic.com is the trusted online store with 1,000,000+ replacement parts and maintenance products for 160 appliance, outdoor power equipment and heating and cooling equipment brands

Your Spring Cleaning Headquarters is Walmart.com
Shop All the Tools you Need at Every Day Low Prices at Walmart.com
Shop Home Improvement Essentials at Walmart.com
Shop Amazon Lawn & Garden- New WORX Landroid Robotic Lawn Mower
Q and A Section
Q & A message board entrance....
Welcome to the Question and Answer section. Before posting a question please have a look for the answer to your question in the Repair Aid pages. Lots of FAQ in the Frequently Asked Questions pages.
If you still need to post a question, remember to include the Make and Model # ( e.g. - Maytag washer, model# LAT9400AWW or Kenmore Dryer 110.12345678
Use "Family" rated language ... as we will remove any posting found to be offensive or unsuitable to the nature of this site.
Q&A Forum....
---
Lots of useful and great information available from previous postings in these forums...
This forum linked here.
This forum linked here.
This forum linked here.
This forum linked here.
This forum linked here.
Search and you will find parts help, repair help, take apart help for tons of your appliance repair needs!