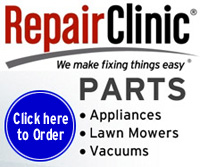 Due to high costs for keeping this site running, please consider making a donation.
$7 Off State Filings With Coupon Code "7OFFSTATE"
File Your Taxes For Free
30% Off With Coupon Code "SAVE30"
Dryer repair help and repair parts...
Dryer References - Dryer Maintenance Tips - Frequently Asked Questions

Get fast cash at Check Into Cash. APPLY NOW!
Despicable Me costumes
Refrigerator Parts
Below are resources for determining your model number for your refrigerator, finding the refrigerator part you need, and lists of commonly replaced parts for various brands of refrigerator.
Whirlpool, Inglis, Kitchen Aid refrigerator parts
GE, Hotpoint refrigerator parts
Maytag, MagicChef, Norge and some Wards & Admiral refrigerator parts
Frigidaire, White Westinghouse refrigerator parts
Who made my Kenmore help...grab your model# and check out this chart.
Find your part with RepairClinic.com's Shop for Parts feature.
Search by part number or model number for best results.
If you don't know your model number - try searching by appliance type, brand or part type.
Whirlpool, Inglis, Kitchen Aid refrigerator parts
Whirlpool style defrost timer

Item Number 482493

Wlp style defrost thermostat

Item Number 4387489

Condenser fan motor

Item Number 833697

Wlp style evaporator fan motor1

Item Number 482731

Wlp style evaporator fan motor2

Item Number 482468

Wlp style evaporator fan motor3

Item Number 482469

Common evaporator fan motor blade

Item Number 513543

Door gaskets

Single coil fill valve for KA, WLP & Coldspot

Item Number 4318047
Amana refrigerator parts
Is your Amana refrigerator clogging up with ice in the drain line and freezer? - these can help...
Drain kit for 18&19 cu ft Amana refrigerators

Item Number R0156842

Drain kit for 20&21 cuft Amana refrigerators

Item Number R0156843

Drain kit for 22&23 cuft Amana refrigerators

Item Number R0156844

Drain kit for 32" wide 16cuft Amana refrigerator

Item Number R0156845

Amana style defrost timer

Item Number 10129301

Amana defrost timer - red button version

Item Number R0131577

Door gaskets
GE, Hotpoint refrigerator parts
GE style defrost timer

Item Number WR9X480

GE clip on style defrost thermostat

Item Number WR50X122

GE door closer cam

Item Number WR2X4901

Condenser fan motor

Item Number 833697

Door gaskets

Crisper cover (WR32X5206)

Item Number WR32X5206

Hinge and cam kit

Item Number WR49X5124
Maytag, MagicChef, Norge and some Wards & Admiral refrigerator parts
Maytag evaporator fan motor

Item Number 61004888

Maytag evaporator fan motor ( all white plastic body fan motor )

Item Number 61005339

Maytag evaporator fan motor ( all white plastic body fan motor with wire harness )

Item Number 61005935

Maytag style defrost timer

Item Number 4391974

Condenser fan motor

Item Number 833697

Door gaskets

Defrost thermostat Admiral/Wards

Item Number 52085-17

SxS defrost heaters

Item Number 61001846

15&17 cu ft defrost heater kit

Item Number 12001027

19 cu ft defrost heater kit

Item Number 12001028

22-23 cu ft defrost heater kit

Item Number 12000029

Door closure device

Item Number 69258-1

Door bar end cap - L or R

Item Number 67213-2

Door bar end cap - L or R

Item Number 67211-2

Door bar end cap - L or R

Item Number 67208-3
Frigidaire, White Westinghouse refrigerator parts
Universal/Frigidaire defrost timer

Item Number 5303917633

Door gaskets
Universal refrigerator parts
Door gaskets

Wine or large bottle holder

Item Number 2179404K

Smells Begone

Item Number WX10X25

Condenser cleaning brush

Item Number 5303318693

FridgeAid deodorizer

Item Number 78956

Universal Defrost Thermostat

Item Number ML55

Universal clip on Defrost Thermostat

Item Number GLT50

Universal defrost timer

Item Number 5303917633

Condenser fan motor

Item Number 833697

Ice cube trays

Item Number 215667501

Spacer shim washers

Item Number 12500082

Replacement compressor start relay 1/4 - 1/3 HP

Item Number RCO410

Replacement compressor start relay 1/5 - 1/12 HP

Item Number RCO810

Plastic connector for 5/16" plastic water line

Item Number WR2X85450

Coupler, water line, 1/4" to 1/4"

Item Number 4211117

Plastic tubing coupler, 1/4" to 5/16"

Item Number B5706901
---
Refrigerator Parts