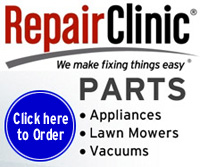 Due to high costs for keeping this site running, please consider making a donation.
A little today will help to ensure we will still be here tomorrow!
Put A Little Spring In Your Step!
For whatever season you find yourself in, we have the parts you need to complete any home repair and get the job done today! 5% off parts for appliances, lawn equipment and heating and cooling equipment now through March 31st.
Shop for Lawn Equipment Parts
Repair help for appliances, lawn equipment and heating and cooling.
12% Extra Discount on K9 Advantix at CanadaPetCare. Limited Stock for discounted price is available for Coupon Code-CPC12ON. Get Free Shipping on all order in USA. Guaranteed Cheapest. Shop Now
Remove Frigidaire Washer Timer Knob
New twist to remove your timer knob....
On some Frigidaire, Admiral, Maytag top load washing machines the most common way to remove the timer knob was to untwist it counter clockwise off the timer shaft. Then along came a newer plastic body timer, we first ran info this a few years ago. If you try to unscrew the timer knob, all that will happen is the knob will turn...but it will not come off...that's because there is a hidden release. Remove the power, remove the back panel and see the pictures to release the timer knob.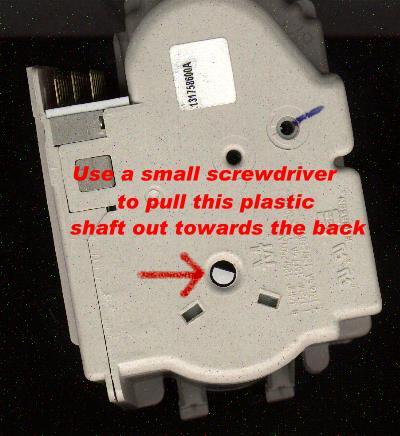 Once the plastic shaft part is pulled out, the timer knob will than just pull off.
A tip for removing the Front load Frigidaire washer timer knob ( Frigidaire builds most of the GE & Kenmore front load washers ).....push in on the dial while turning counter-clockwise to unscrew. Then use pliers to squeeze the timer indicator locking tabs while pulling out.
---