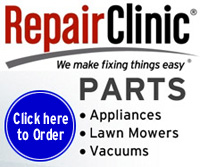 Due to high costs for keeping this site running, please consider making a donation.
It's On! Find Big Deals Before Black Friday at Walmart.com
Pre-Black Friday at Walmart.com- Find Big Deals before the Big Day!
Pre-Black Friday is On at Walmart.com! Find Big Deals before the Big Day
Dishwasher repair help and repair parts...
Dishwasher References - Dishwashre Maintenance Tips - Frequently Asked Questions

This Black Friday, win the day with our best deals of the year at Walmart.com!
Shop Black Friday Deals at Walmart.com!
Christmas Day is coming!!
Cookies From Home
Find the tackiest sweater you can imagine at UglyChristmasSweater.com today!
Remove Frigidaire Washer Timer Knob
New twist to remove your timer knob....
On some Frigidaire, Admiral, Maytag top load washing machines the most common way to remove the timer knob was to untwist it counter clockwise off the timer shaft. Then along came a newer plastic body timer, we first ran info this a few years ago. If you try to unscrew the timer knob, all that will happen is the knob will turn...but it will not come off...that's because there is a hidden release. Remove the power, remove the back panel and see the pictures to release the timer knob.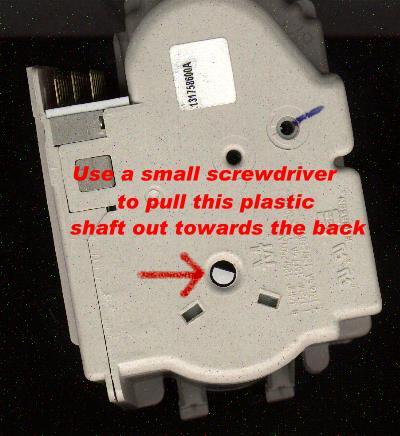 Once the plastic shaft part is pulled out, the timer knob will than just pull off.
A tip for removing the Front load Frigidaire washer timer knob ( Frigidaire builds most of the GE & Kenmore front load washers ).....push in on the dial while turning counter-clockwise to unscrew. Then use pliers to squeeze the timer indicator locking tabs while pulling out.
---
More washing machine parts...