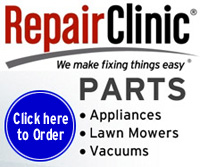 Due to high costs for keeping this site running, please consider making a donation.
Find Great Valentine's Day Gifts at Sweet Prices at Walmart.com
Shop Gifts at Sweet Prices this Valentine's Day at Walmart.com
Dryer repair help and repair parts...
Dryer References - Dryer Maintenance Tips - Frequently Asked Questions

Super Bowl is soon!!
Shop Snacks for Less at Walmart.com!
Save More on Kitchen Appliances at Walmart.com!
Find Great Big Screen TVs for Less at Walmart.com!
Replacing Belt Drive Washer Pump
How to replace the pump....
Disconnect power first.
Drain the tub. remove the back panel, loosen the motor mounting bolt and remove tension from the belt. Lean the washer back against the wall, put a bucket underneath the pump and remove the hoses. remove the 2 mounting bolts (1/2" bolt heads) and remove the pump. Rocking the pump away from the belt will help disengage the belt, and also the pump lever from the cam bar. Don't move the pump lever yet. Check the belt for glazing or cracks, if belt looks bad replace it as well. Set the pump lever in the same position as the pump that came out. Rock the pump in place, the same way way as you pulled out the old one. make sure the pump lever goes into the slot for the cam bar. Reinstall the 1/2" bolts and reset tension of the belt by moving the motor mounting bolt back into place.
The above is how I would change a pump on a belt driven Whirlpool/Inglis built washer, below is some extra good info on replacing the 2 hose and 3 hose pump.
2 hose pump....
3 hose pump....continued on the next page
---
More washing machine parts...