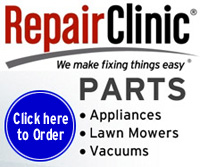 Due to high costs for keeping this site running, please consider making a donation.
It's On! Find Big Deals Before Black Friday at Walmart.com
Pre-Black Friday at Walmart.com- Find Big Deals before the Big Day!
Pre-Black Friday is On at Walmart.com! Find Big Deals before the Big Day
Dryer repair help and repair parts...
Dryer References - Dryer Maintenance Tips - Frequently Asked Questions

This Black Friday, win the day with our best deals of the year at Walmart.com!
Shop Black Friday Deals at Walmart.com!
Thanksgiving Day is coming!!
Cookies From Home
Find the tackiest sweater you can imagine at UglyChristmasSweater.com today!
Replacing GE Spray Arm
The expandable center spray, spray arm and support are a one piece deal with many of the newer style GE built dishwashers.
Spray arm parts link
This spray arm is threaded into a part under the tub/liner of the dishwasher. A rubber coupler on top of the motor and pump assembly is what this spray arm assembly screws/threads into. To change/remove this spray arm, simply push a flat screwdriver through the hole in the bottom of the spray arm and twist it off. It should be a regular thread.
---
Dishwasher Parts