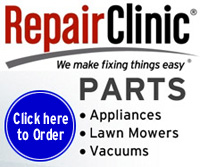 Due to high costs for keeping this site running, please consider making a donation.
Amazon gift card for Mothers Day
How to get your lawnmower ready for spring and MUCH, MUCH, MUCH more!
The Great Spring Tune-Up Kit Sale

My Model Numbers - Saved just for you for future reference
Tightening Belt-Drive Washer Belt
Remove power. Pull out the washer from the wall, remove the back access panel. Locate the 9/16" nut ( on the left side facing from the back ) for the motor mounting plate. Loosen this nut, do not remove it. Once the nut is loosened, you can tap on the motor mounting plate with a hammer towards the left to tighten the belt....the belt should flex in and out approx. 1/4 of an inch when pushed against with your finger, this is the correct tightness.
---
More washing machine parts...