Appliance Repair and Parts Help, New Purchase Info and More!
Welcome to Appliance Repair Aid, Your Online
Appliance Repair Shop
ApplianceAid.com is your resource for appliance repair help and appliance parts. We also have appliance purchase help information if your old appliance is just too far gone for fixing, and a wealth of other appliance information.
---
Appliance tip of the week...
Eight easy, money-saving tips to get snowblowers ready for off-season storage
It's almost spring, which means it's time to prepare your snowblower for storage. Just a few simple maintenance steps now will extend the life of your snowblower and ensure that it runs well when you need it again.
1. Replace the spark plug. The tiny but mighty spark plug should be replaced at least one per season, even if it appears to be working fine. Over time, a spark plug's performance will degrade due to carbon buildup and a weakened electrode. This dramatically increases emissions, reduces engine performance and increases fuel consumption.
2. Drain and replace the oil. Before replacing engine oil, check your owner's manual for the recommended way to tilt the snowblower. It varies from model to model. Unscrew the drain plug and release the oil into a bucket. Replace the plug and add fresh oil, as recommended by the manufacturer. Used oil should be recycled. Most small engine repair shops have a free recycling program for this.
3. Add fuel stabilizer to fresh fuel. Fuel stabilizer slows build up in the carburetor. Follow the owner's manual for instructions on leaving fuel in the engine during storage, as this varies by manufacturer.
4. Degrease. Spray a degreaser on greasy and dirty areas. Allow the degreaser to sit for 10-15 minutes before wiping with a clean cloth.
5. Check the fuel cap and tires. Fuel caps have small vent holes to allow air into the fuel tank. Replace the fuel cap if its air vent holes are blocked by buildup or debris. Cover or close the fuel cap vents. Check the tires for wear and replace as needed. For pneumatic tires, a tire pressure gauge should be used to check the air pressure.
6. Lubricate bearings Lubricate wheel bearings, auger bearings, and the impeller bearings.
7. Inspect the scraper blade, slide shoes and other parts for wear. Thoroughly check the scraper blade and slide shoes (a.k.a. skid shoes) for wear. These parts have the important job of protecting the housing from damage. Replace these parts if they have worn dangerously thin or are damaged beyond repair.
8. Store in a cool, dry place. Cover the snowblower to prevent dust and debris from entering the unit.
Tune up kits
---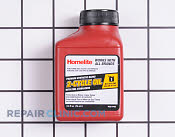 Homelite Premium Synthetic Blend 2-Cycle Oil With Fuel Stabilizers. Mix With One Gallon of Gas Manufacturer Number AC99G01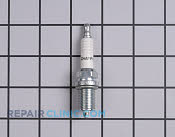 Champion Spark Plug RC12YC, Manufacturer Number 71G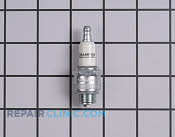 Champion Spark Plug RJ19LM, Manufacturer Number 868
Care For It. Check out our maintenance calendar to help your appliance or lawn mower improve its efficiency and extend its life.