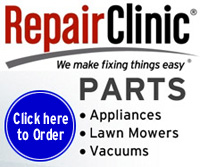 Due to high costs for keeping this site running, please consider making a donation.
Find Great Valentine's Day Gifts at Sweet Prices at Walmart.com
Shop Gifts at Sweet Prices this Valentine's Day at Walmart.com
Dryer repair help and repair parts...
Dryer References - Dryer Maintenance Tips - Frequently Asked Questions

Super Bowl is soon!!
Shop Snacks for Less at Walmart.com!
Save More on Kitchen Appliances at Walmart.com!
Find Great Big Screen TVs for Less at Walmart.com!
Washer Reservoir Help
Some Whirlpool built washing machines have an automatic dispenser for fabric softener or bleach. A common question has been...it will not dispense...or it seems to be clogged. This page will give you some info on this type of a dispenser.
The timer sends power to an electrical solenoid, the solenoid pulls up on an plunger rod and the liquid is allowed to flow out of the reservoir and into the wash basket. If the timer is sending power to the solenoid and the solenoid is ok...it is possible the plunger rod, reservoir and hose needs to be cleaned out. This is usually done by removing the power and taking apart the dispenser. Flushing some hot water through the dispenser may also help clean this out.
#43 - screw, #44 - solenoid, #45 - rod & stopper, #46 - screw, #47 - screw, #48 - bracket, #49 - reservoir
A real life picture of one on a belted Whirlpool washer...
---
More washing machine parts...