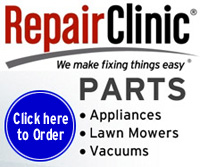 Due to high costs for keeping this site running, please consider making a donation.
Amazon gift card for Mothers Day
How to get your lawnmower ready for spring and MUCH, MUCH, MUCH more!
The Great Spring Tune-Up Kit Sale

My Model Numbers - Saved just for you for future reference
You can relax in the great outdoors with high-quality patio furniture, garden furniture and outdoor furniture from Walmart.com! Plus, we stock up on other great outdoor essentials to keep the fun going all Spring. They can still enjoy free shipping on all orders of $50 or more at Walmart.com
More Outdoor Essentials Now on Rollback at Walmart.com!
Save $100 on the Mainstays Crossman 7-Piece Patio Dining Set at Walmart.com!
Shutter 7-Piece Patio Dining Set, Seats 6 - Was $899, Now Only $799 at Walmart.com!
Whirlpool Dryer 279787 Motor Change
A tip for changing a Whirlpool ( some Kenmore ) dryer motor. The manufacturer has replaced part number 3395654 with this item, part number 279787.
A copy from a posting...
**I'm having the exact same issue with this motor. Kenmore Model # 110.67902791 w/ motor 3995654. Bought replacement motor 279787. New motor looks identical to old motor except it has the bare motor leads, just as mentioned in a previous post. I hooked everything up just like it was before and nothing happens. I've checked everything I know to check, but can't figure it out. Did anyone ever get this scenario figured out?**
I tried the motor on a dryer that I had in my shop. Reference model ( Kenmore ) C110.8453291
The original motor - click here
Close up of the original motor and motor wire plug - click here
The new motor - click here
Without making any changes to the wires I unplugged the wire plug from the old motor and plugged it directly to the new motor. The new motor was dead when I tried it - click here
Here is what I had to do. Since my test dryer did not have the belt broken switch, I ignored the section that talked about "the wires from the interrupter/belt switch".
I did notice the old motor had a wire going to the thermal overload switch that the new motor did not have - click here
So I removed the blue wire from the old motor and installed it on the new motor in the same position - click here
With the wire transferred over to the new motor, I plugged the wire harness/plug onto the new motor and it fired right up when I pushed the start button :-)
---
Dryer Parts