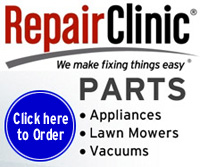 Due to high costs for keeping this site running, please consider making a donation.
Get Your Home Guest Ready at Walmart.com!
Now find new rollbacks on all things camping at Walmart.com! Hurry over now to save on tents, sleeping bags, coolers, and more.
Gear up for Holiday Hosting at Walmart.com!
Whirlpool Dryer Will Not Shut Off
My Kenmore dryer (model 110.96583120) no longer stops. When it gets to the end of a Timed Dry cycle it continues on to the Air Dry and then on to the next and so on....It will stop when I open the door. When I close the door it restarts without pushing the start button.
Any ideas on what is wrong?
---
Hi,
Check for a stuck/welded closed start switch with an ohm meter. Should be open ( no continuity ) when not pushed and closed ( has continuity ) when pushed.
Example:
Push to start switch, 2 terminal
---