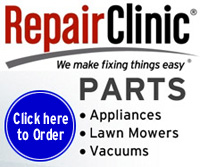 Due to high costs for keeping this site running, please consider making a donation.
A little today will help to ensure we will still be here tomorrow!
Content Article: Adopt These Money-Saving Habits This Winter
Content Article: Five Easy Fixes for Your Appliances
Content Article: Keeping Your Microwave Happy
Content Article: Range Cleaning 101
Cerama Bryte, glass-ceramic cooktop cleaner
Solid surface range element restorer
Oven cleaning kit, includes (1) expanding sponge, (1) scrubbing sponge, (1) scraper
Content Article: Quick & Easy Fridge Fixes
Content Article: 7 Simple Dryer Repairs You Can Do Yourself
Whirlpool Dryer Will Not Shut Off
My Kenmore dryer (model 110.96583120) no longer stops. When it gets to the end of a Timed Dry cycle it continues on to the Air Dry and then on to the next and so on....It will stop when I open the door. When I close the door it restarts without pushing the start button.
Any ideas on what is wrong?
---
Hi,
Check for a stuck/welded closed start switch with an ohm meter. Should be open ( no continuity ) when not pushed and closed ( has continuity ) when pushed.
Example:
Push to start switch, 2 terminal
---