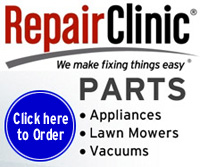 Due to high costs for keeping this site running, please consider making a donation.
Save on Back to College Shopping at Walmart.com!
More Everyday Beauty and Health Items for Back to College Available at Walmart.com!
Find School Supplies at a Great Price at Walmart.com!
Dishwasher repair help and repair parts...
Dishwasher References - Dishwasher Maintenance Tips - Frequently Asked Questions

Glowing Ice Cubes - Pink
$19.99
Light up the night with our?pink glowing ice cubes. They are perfect for parties, special occasions and can be...[Read More]
Whirlpool Dryer Will Not Shut Off
My Kenmore dryer (model 110.96583120) no longer stops. When it gets to the end of a Timed Dry cycle it continues on to the Air Dry and then on to the next and so on....It will stop when I open the door. When I close the door it restarts without pushing the start button.
Any ideas on what is wrong?
---
Hi,
Check for a stuck/welded closed start switch with an ohm meter. Should be open ( no continuity ) when not pushed and closed ( has continuity ) when pushed.
Example:
Push to start switch, 2 terminal
---
Dryer Parts