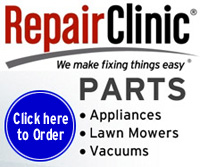 Due to high costs for keeping this site running, please consider making a donation.
Cellars Wine Club
Dishwasher repair help and repair parts...
Dishwasher References - Dishwasher Maintenance Tips - Frequently Asked Questions

Are You Owed Unclaimed Money & Don't Know It? Millions of Americans go year after year not even knowing that they have thousands of dollars in unclaimed money. Find out if you do with this easy free trial search.
Click Here to Get Fast Cash this Summer Season.
Whirlpool Dryer Will Not Shut Off
My Kenmore dryer (model 110.96583120) no longer stops. When it gets to the end of a Timed Dry cycle it continues on to the Air Dry and then on to the next and so on....It will stop when I open the door. When I close the door it restarts without pushing the start button.
Any ideas on what is wrong?
---
Hi,
Check for a stuck/welded closed start switch with an ohm meter. Should be open ( no continuity ) when not pushed and closed ( has continuity ) when pushed.
Example:
Push to start switch, 2 terminal
---
Dryer Parts