Whirlpool Duet Front-Load Washer Fault Codes
The F/06 is:
Drive Motor Tachometer Error
The control is unable to properly detect motor speed and the machine will shut down. If a failure occurs during high-speed spin, the door will be unlocked after 3 minutes.
Should check these:
Check wire harness connections between the Drive Motor/Tachometer and the Motor Control Unit (MCU), and between the MCU and the Central Control Unit (CCU)
Check the Drive Motor
Check the MCU
Check the Wire Harness
New motor or new motor control board has been very successful in repairing the F06 fault code.
---
110. 45862400 or 110.45862401 Whirlpool made for Sears. Here is what the F11 means.
Possible Causes / Procedure
Unplug washer or disconnect power.
Check wire harness connections to the MCU, the motor, and Central Control Unit (CCU).
Check the drive system for any worn or failed components.
Plug in washer or reconnect power.
Verify CCU operation by running a Diagnostic test or any cycle.
Check the MCU by looking for operations of the drive motor.
Check the drive motor for powered rotations
Check that the serial harness at the MCU is not mounted upside down. The wires should be to the left when facing the MCU connectors.
---
I'm having a problem with my HE3t washer. I select a wash option and then the start button and the washer does nothing. I do not see any errors codes at all. The door opens and closes with no problems.
The red light on the wash cycle select just flashes. I've unplugged the washer for 5 minutes thinking the washer needs to reset but still nothing.
Check your door switch button, its just above the door latch, sometimes that button has broken, or the door has dropped a bit, not aligning correctly.
In case others need this door latch assembly, here is the part you can order:
Manufacturer part#8182634 is RepairClinic item #1094190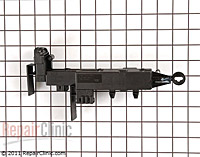 Lock, door
Related items/links:
~ Here is the official online repair manual for the Whirlpool Duet Sport
---