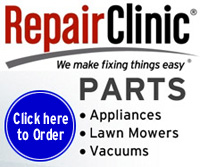 Due to high costs for keeping this site running, please consider making a donation.
Amazon gift card for Mothers Day
How to get your lawnmower ready for spring and MUCH, MUCH, MUCH more!
The Great Spring Tune-Up Kit Sale

My Model Numbers - Saved just for you for future reference
Whirlpool Front Seal And Bearing Kit
Newer style Whirlpool - Inglis - ( some ) Kenmore dryer front drum support ring install help.
Parts link for this part.
Remove power
Raise top and consol assembly ( tips for disassembly )
Remove toe panel if used
Remove front cabinet panel
Remove the old bearing and seal from the front panel. Leave the 3 plastic plugs
Install the new bearing and seal around the opening flange, with the white portion of the seal to the outside of the front panel flange....see picture here
Make sure the folded edge of the seal is facing away from the front cabinet panel, and the 3 holes in the bearing fit over the 3 plastic clips. Fold seal with white portion of the seal sandwiched between the fold of the seal...see picture here
Replace front panel and top
Reconnect power and test
---
Dryer Parts