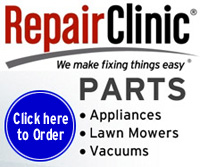 Due to high costs for keeping this site running, please consider making a donation.
Save on Back to College Shopping at Walmart.com!
More Everyday Beauty and Health Items for Back to College Available at Walmart.com!
Find School Supplies at a Great Price at Walmart.com!
Dishwasher repair help and repair parts...
Dishwasher References - Dishwasher Maintenance Tips - Frequently Asked Questions

Glowing Ice Cubes - Pink
$19.99
Light up the night with our?pink glowing ice cubes. They are perfect for parties, special occasions and can be...[Read More]
Whirlpool HE3 Dryer Belt Replacement
I'd like to replace the belt on my HE3 dryer as it appears to be a fairly easy fix, reference - M: 110.82832100
Disconnect the power! Pull the dryer away from the wall and remove the top cover. Remove the console. Remove the lint filter screen. Remove the two hex-head screws from the bottom flange of the toe panel. Pull the toe panel out at the bottom, pull down, and remove the panel. Remove the hex-head screw from the lint duct bracket and remove the bracket. Remove the two hex-head screws from the lint duct and remove the duct. Disconnect the 3-wire moisture sensor connector from the main harness connector. Disconnect the 3-wire door switch connector from the machine. Loosen the two top front panel screws. Remove the two bottom front panel screws. You should then be able to put the belt around the drum.
Above article posted from Appliance411 Q&A forum
---
Dryer Parts