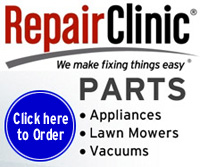 Due to high costs for keeping this site running, please consider making a donation.
A little today will help to ensure we will still be here tomorrow!
A snowblower makes it easy to clear snow from walkways, driveways and other areas. Like other outdoor power equipment, the snowblower must be properly maintained for safety purposes and in order to operate efficiently.
Whirlpool Refrigerator Defrost Timer
Defrost timer repair aid for Whirlpool built refrigerators....
Whirlpool also makes some of the Sears refrigerators ( 106.######## ) and Kitchen Aid as well as Inglis. Information on installing / replacing a defrost timer for many of the Whirlpool built refrigerators.
A tip from Fyxxez:
Whirlpool defrost timers only!
When I was a little unsure about hooking those defrost timers up, where the timer motor wire went , #1 terminal or # 2 terminal. Whirlpool tech line gave me an easy way out:
If the timer has a WHITE wire going to it ,the timer lead goes on #1
Anything else goes on #2
---