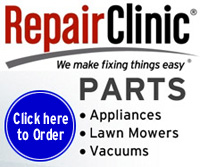 Due to high costs for keeping this site running, please consider making a donation.
A little today will help to ensure we will still be here tomorrow!
Content Article: Adopt These Money-Saving Habits This Winter
Content Article: Five Easy Fixes for Your Appliances
Content Article: Keeping Your Microwave Happy
Content Article: Range Cleaning 101
Cerama Bryte, glass-ceramic cooktop cleaner
Solid surface range element restorer
Oven cleaning kit, includes (1) expanding sponge, (1) scrubbing sponge, (1) scraper
Content Article: Quick & Easy Fridge Fixes
Content Article: 7 Simple Dryer Repairs You Can Do Yourself
Whirlpool Thin Twin Belt Replacement
Whirlpool Thin Twin - Accessing the dryer to replace the belt....
Disconnect the power.....PLEASE!
Look under each side if the control panel on the bottom. There you will find 2 1/4 inch screws....unscrew these about 6 full turns...this lowers the hooks that hold control panel in place...it is hinged and will flip down...sometimes you have to pry it down gently!
Once the panel is down you disconnect the white wire connector going to the door switch and remove the 2 screws holding the front cover on....then carefully lift up on the front cover to unhook it from the 2 hooks on top...kind of slides up and out. The tub is going to stay inside and drop down...the front cover supports the tub. At this time you can remove the tub and clean out all the lint...(recommended)
Putting the front cover back on is a little tricky...you have get it attached on the top hooks and then pick up on the tub to put it on the bearing ring in the front cover ..then put the 2 screws back in...3 hands are nice to have now. Compliments from Mike the Applianguy.
---