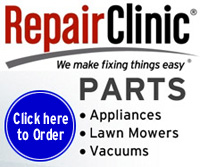 Due to high costs for keeping this site running, please consider making a donation.
Cellars Wine Club
Dishwasher repair help and repair parts...
Dishwasher References - Dishwasher Maintenance Tips - Frequently Asked Questions

Are You Owed Unclaimed Money & Don't Know It? Millions of Americans go year after year not even knowing that they have thousands of dollars in unclaimed money. Find out if you do with this easy free trial search.
Click Here to Get Fast Cash this Summer Season.
Whirlpool Thin Twin Belt Replacement
Whirlpool Thin Twin - Accessing the dryer to replace the belt....
Disconnect the power.....PLEASE!
Look under each side if the control panel on the bottom. There you will find 2 1/4 inch screws....unscrew these about 6 full turns...this lowers the hooks that hold control panel in place...it is hinged and will flip down...sometimes you have to pry it down gently!
Once the panel is down you disconnect the white wire connector going to the door switch and remove the 2 screws holding the front cover on....then carefully lift up on the front cover to unhook it from the 2 hooks on top...kind of slides up and out. The tub is going to stay inside and drop down...the front cover supports the tub. At this time you can remove the tub and clean out all the lint...(recommended)
Putting the front cover back on is a little tricky...you have get it attached on the top hooks and then pick up on the tub to put it on the bearing ring in the front cover ..then put the 2 screws back in...3 hands are nice to have now. Compliments from Mike the Applianguy.
---
Dryer Parts