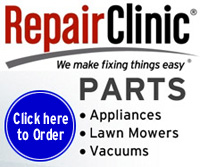 Due to high costs for keeping this site running, please consider making a donation.
Shop fall fashion for the whole family at Walmart.com!
Shop Women's Fall Fashion Essentials at Walmart.com!
Save on Men's Fall Fashion at Walmart.com!
Shop Kids' Fall Fashion for Less at Walmart.com!
Dryer repair help and repair parts...
Dryer References - Dryer Maintenance Tips - Frequently Asked Questions

Shop Amazon - Fall Grooming Guide Presented by Men's Fitness
Shop Pets Halloween - Best-Selling Pet Costumes
Shop Amazon - Women's Halloween Costumes
Shop Amazon - Men's Halloween Costumes
Shop Amazon - Baby Halloween Costumes
Whirlpool Washer Lid Switch Help
Whirlpool ( many Kenmore ) lid switches....
...are failing in a strange way. The switch can be ohmed and will check ok, switch will make a "click" noise if you push a screwdriver down the hole to activate it, the switch body is not cracked or broken....but the switch is BAD!!
The internal workings of the switch has lost it's "value" and has weakened....means the switch must be pushed all the way down to activate it rather than being pushed about 1/2 down to activate the switch normally. When the washer lid is closed, the lid probe goes down through the hole but can no longer push far enough to activate the switch. I have changed about many of these in the last year for this problem.
Related items/links:
---
More washing machine parts...