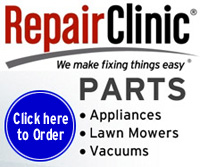 Due to high costs for keeping this site running, please consider making a donation.
Find Great Valentine's Day Gifts at Sweet Prices at Walmart.com
Shop Gifts at Sweet Prices this Valentine's Day at Walmart.com
Dryer repair help and repair parts...
Dryer References - Dryer Maintenance Tips - Frequently Asked Questions

Super Bowl is soon!!
Shop Snacks for Less at Walmart.com!
Save More on Kitchen Appliances at Walmart.com!
Find Great Big Screen TVs for Less at Walmart.com!
Wiring Help
The most commonly used outlet receptacle for an Electric range and Dryer plug is an 4 wire outlet. This should help you tell what wire goes where when installing this receptacle.
Look for the markings GND, W or white, X & Y on the back of the receptacle.
Changing from a 3 to 4 wire hookup on an electric dryer.
---
Dryer Parts