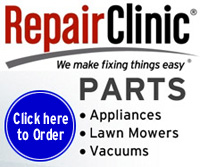 Due to high costs for keeping this site running, please consider making a donation.
50% Cheaper Tax Filing
File Your Taxes For Free
How to get your lawnmower ready for spring and MUCH, MUCH, MUCH more!
The Great Spring Tune-Up Kit Sale

My Model Numbers - Saved just for you for future reference
Wiring Help
The most commonly used outlet receptacle for an Electric range and Dryer plug is an 4 wire outlet. This should help you tell what wire goes where when installing this receptacle.
Look for the markings GND, W or white, X & Y on the back of the receptacle.
Changing from a 3 to 4 wire hookup on an electric dryer.
---
Dryer Parts