---
Frigidaire Frontload Washer Not Draining
---
My Frigidaire ( some Kenmore and GE ) front load washer will not drain out the water....
---
Remove the power!
Remove the lower front panel....screws to remove are #19 and the panel #18 will drop down a bit and forward to come off.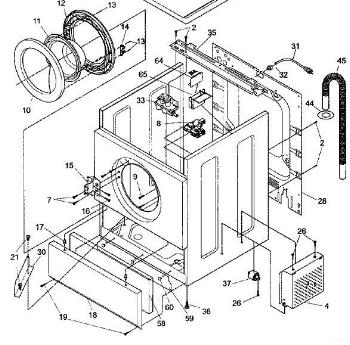 Sometimes coins, zippers, lint, bra under wires will get caught/jammed in the drain pump assembly and stop it from running/working.
The hoses can be removed from the pump to check for any foreign objects or the pump ( the part where the pink and white wires are ) can be totally removed by unclipping the wire harness and removing the two 5/16" bolts to check the pump assembly itself. The pump can be taken apart to check inside....if needed.
The pump assembly is in the front right corner...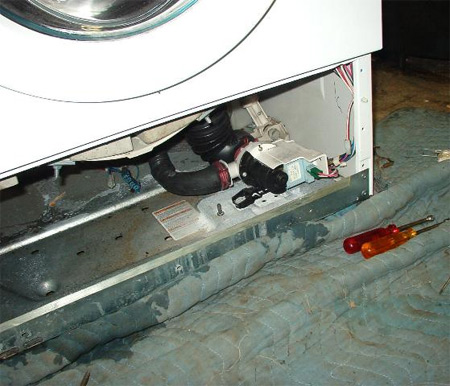 A tip from Ben:
I fixed my washer with the help of this page. I suggest that when one starts in on this project that they go out and get some screw clamps first. Here is a picture that might help those unfamiliar with them: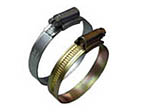 The factory supplied spring hose clamps where a pain to get back on. Without the spring clamp frustration removing the four dollars in change and the drill bit that stopped the pump from working would have taken under 5 minutes.
A tip from Todd:
Thanks for a life-saving repair page. I was able to unclog my pump using the instructions and pictures. BTW...I used a pair of vise-grip pliers to remove the OEM spring hose clamp. Hope you can use that little hint as an alternative to buying the automotive heater hose clamps. With the Vise-Grips (mine are needle-nose, but any will work) you can save the trip to the hardware store.
Tip from Rudy:
May I suggest a tip for this page? One thing I didn't anticipate, before removing the rubber hose, was the great amount of water that started pouring out of the pump! Tip from Rudy: "Before removing the rubber hose, have a large (e.g., 13-gallon) plastic bag in place, ready to collect water that can quickly pour out of the system."
---
Shop Frigidaire Washing Machine Pump Parts
---
---
---