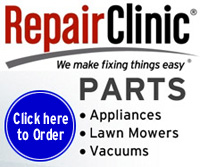 Due to high costs for keeping this site running, please consider making a donation.
Hunger Games costumes/accessories at low prices.
Find Thanksgiving Costumes at low prices from HalloweenCostumes.com
HalloweenCostumes.com
Alice in Wonderland Costumes
Dryer repair help and repair parts...
Dryer References - Dryer Maintenance Tips - Frequently Asked Questions

Tools for Appliances
Tools - Equipment - Specialized kits
Adhesives - Touch up paints - Accessories....
Some tools that may be required to repair/diagnose your appliance problems, some are specialized tools to help with maintaining your appliances.
Most of the tools are inexpensive for simple appliance repair unlike larger do-it-yourself projects that might require equipment leasing for expensive equipment you will only use once or twice.
Volt/OHM Meter

Item Number DM10T

Sealed burner wrench to remove and install Maytag family surface burners without crushing them.

Item Number 8312D075-60

Spanner nut wrench for Whirlpool/Kenmore, General Electric & Maytag inner tub lock nuts

Item Number TB123A

Maytag only spanner wrench for the tub and tub seal removal

Item Number 22038313

Wrench for removing and installing washer tub retainer nut on GE, RCA and Hotpoint washers

Item Number WX5X1325

The GE agitator tool for replacing the old style drive blocks

Item Number TB43

Maintenance items - paints - cleaners

Specialized maintenance tools

Tools required for some repairs on the MAV, SAV, NAV and PAV model Maytag washers

External Snap-Ring Pliers, .038", 45 Degree Tip

Item Number 73243

Nut Driver Set, 7 Piece

Item Number K7

Hose Clamp Pliers, 7-5/8" Plastic-Dipped Handles - For installation and removal of spring-tension hose clamps on appliance drain and fill hoses.

Item Number D514-8

10-in-1 Screwdriver/Nut Driver

Item Number 32477-12

Screwdriver, T20 Torx, 4-inch Shank (common one used on many appliances today! )

Item Number 19543
---