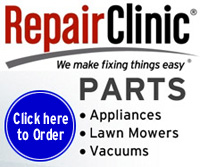 Due to high costs for keeping this site running, please consider making a donation.
Get a payday loan fast at Check Into Cash, a trusted payday advance lender. Apply Today!
Appliance repair help and repair parts...
Repair Help for Appliances, Lawn Mowers, HVAC and more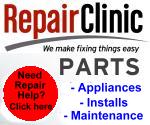 RepairClinic.com is the trusted online store with 1,000,000+ replacement parts and maintenance products for 160 appliance, outdoor power equipment and heating and cooling equipment brands

Heavily discounted items from HardwareandTools.com. No coupon code required.
Donate
If you have found this Appliance Repair site helpful...please read below...
I will never get rich from operating a free information web site, but my goal is to operate a financially sound web site and do as much as possible for my community!! 10% of all donations goes to charity!! A little today will help to ensure we will still be here tomorrow!
Due to the real ( web space - time - hardware - are just a few examples ) costs for operating this Appliance Aid site running, please consider making a donation to...
Jeff Worrall
262 Glencarry Ave, #307
Hamilton, Ontario Canada L8K3R9
Thank you!! :-)
---