---
Some Whirlpool microwave codes....
---
F2 - There are several possible reasons for this error code to appear:
1) Faulty Control Pad
2) Faulty membrane
3) Overheating
4) Convection cooking or temp sensor issue
Control pad issues commonly occur in Whirlpool and Kenmore ovens. Try to clear the error by resetting the unit. Press the Stop or Cancel button and select another mode. Press the Start button to launch the selected program. If the fault is still there, press Stop or Cancel again and disconnect the unit from mains. Wait five minutes or so and reconnect the oven. If the issue persists, contact a qualified technician. This code may appear if the touchpad is damaged or faulty. Most likely, it needs to be replaced. Finding one for a specific brand is no problem: they are available online or in appliance stores. If you have some knack for mechanical work, buy the right type of membrane and fix it yourself. If not, turn to a professional technician. Amana, Admiral and GE microwave ovens show the F2 fault code when they overheat. Most likely, the relay board or temperature sensor is not working properly and needs to be repaired or replaced. Check with a professional technician. Last, but not least, is convection cooking. When this feature is down, the F2 error code appears. Also, it can be due to a faulty temp sensor.
F5 - The F5 fault code indicates a shorted humidity sensor. This happens when the shorting continues for more than 5 seconds.
F7 - If you see this error code on the display, the microwave simply won't cook. This happens due to an interruption in the inverter circuit between Neutral and L1.
There are several possible causes, such as:
Possible reasons:
1) Poorly aligned or deformed door and/or hinges.
2) An interlock switch problem.
3) Faulty temperature protection sensor.
4) Faulty Cavity Thermostats.
5) The microwave needs a reset. Disconnect it, wait for 40 seconds or so and switch it on.
6) If this does not solve the problem, check the cooling fan and be sure it is not blocked or faulty. Check the magnetron thermostat for resistance and make sure it is 0 Ohms. If it is not, replace it.
7) Be sure that the control cable between plug P2 and the 1100 watt inverter is ok. Check all connections.
8) Check interlock switches. If they are ok, replace the inverter.
9) If none of this has worked, have the control system replaced.
Door - This fault code occurs when there is a door latch problem. Make sure it is closed. If not, press on it a little harder. If it does not work, check the latch mechanism and make sure it is clean. If necessary, use a scrub and a spray cleaner. After that, wipe the mechanism dry. If the problem persists, check the electronic interlock. Not unlikely, the door is dirty or not aligned properly and there is lack of contact between the oven's body and the inner surface of the door. Clean it or try to adjust it.
---
| | | |
| --- | --- | --- |
| Code | Meaning | Possible Cause |
| Flashing colon : | Power failure | After a power failure, the colon : will be flashing. Press any key to end this indication. The colon will then be steady when in standby |
| F2 | Membrane switch failure | Replace membrane switch. If problem persists, replace electronic control |
| F3H | Humidity sensor out of range | Connect a new sensor to the electronic control. If problem persists, replace electronic control |
| F6 | Microwave relay failure | Check wiring to Relay for short circuits. If wiring is OK, replace electronic control |
| F3T | Exhaust Fan Thermostat Failure | Check that the oven temperature is not below 5C (41F) or above 60C (140F). If problem persists, replace the control system assembly |
---
TOUCH PANEL & MICROCOMPUTER BOARD TEST FOR WHIRLPOOL....
The microwave oven may be provided with a self diagnostic routine that can be operated through the touch pad keyboard. To enter the self-diagnostic routine:
While pressing the CANCEL keypad:

a) Open the oven door.

b) Unplug the microwave oven for 2-seconds and plug it back in.

c) Release the CANCEL keypad and close the oven door. You will see the following display.
NOTE: The humidity sensor test results will appear on the display after 8-seconds.If the tests are successful, "OK" will be displayed. If one or more of the tests fail, "ERR " will be displayed.. 2.When a keypad is pressed, a number according to the test chart will be displayed. When no keypad is pressed, a blank "-" is displayed...
POWER FAILURE & FAILURE CODES
Power Failure: After a power failure, the WELCOME screen will be displayed.
F2 - Keyboard Failure: Refer to the Tech Sheet and conduct a touch panel continuity test.
F3H - Humidity Sensor Failure: Refer to the Tech Sheet and test the sensor.
F6 - Microwave Relay Failure: Check the microwave relay.
F7 - Microcomputer Board Failure: Change the microcomputer board.
CHART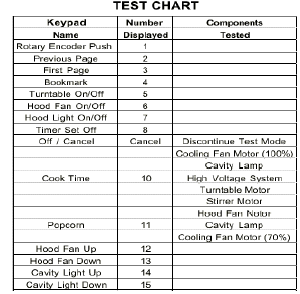 ---
---
Shop Whirlpool Microwave Circuit Board & Timer Parts
Shop Whirlpool Microwave Switch Parts
Shop Whirlpool Microwave Diode, Magnetron & Resistor Parts
Shop Whirlpool Microwave Motor Parts
---
Whirlpool Microwave Repair Parts
---
---
Related Links
---