---
Whirlpool Dryer Will Not Shut Off
---
My Kenmore dryer (model 110.96583120) no longer stops. When it gets to the end of a Timed Dry cycle it continues on to the Air Dry and then on to the next and so on....It will stop when I open the door. When I close the door it restarts without pushing the start button.
Any ideas on what is wrong?
---
Hi,
Check for a stuck/welded closed start switch with an ohm meter. Should be open ( no continuity ) when not pushed and closed ( has continuity ) when pushed.
Example: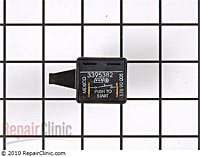 Push to start switch, 2 terminal
---
---
---