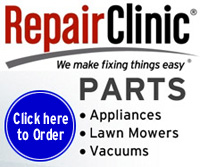 Due to high costs for keeping this site running, please consider making a donation.
Shop Clothing, Electronics and More on Rollback at Walmart.com!
Even More Items Now on Rollback at Walmart.com!
Find Home Accessories, Electronics and More on Rollback at Walmart.com!
Dishwasher repair help and repair parts...
Dishwasher References - Dishwasher Maintenance Tips - Frequently Asked Questions

Shop Men's Graphic Tees from $4 at Walmart.com!
Boy's Graphic Tees Available at Walmart.com!
Popular Girl's Graphic Tees for Less at Walmart.com!
Back to Class Savings on Popular Back to School Styles at Walmart.com!
Save on Electronics During the Back to Class Savings Event at Walmart.com!
Appliance Timer Repair
Many washer, dryer, range and dishwasher mechanical timers can be rebuilt. Some electronic controls can be rebuilt as well. This is a good thing to know as some older timers may be no longer available or too expensive to purchase new. Some companies that offer this service are listed below, also check with local parts depot to see if they offer this service as well. The timer must be removed from the product ( mark down what wires go where! ) and the timer is sent away to the rebuilding shop and they repair your timer and send it back. This service can often easily take 7-10 days. The repair will come with a warranty just like a new part has.
CG Industries
CG Industries in Carol Stream, IL is the industry leader in the remanufacture of electronic appliance parts
PH#: 1-866-RFR-2-CGI
General Time Repairs
We repair/replace all analog and digital range timers/stove clocks
PH#: 712-792-1248
Mid American Timers
We have been repairing analog range timers and digital range timers for over ten years
PH#: 661-588-2689
Stove Clock Repair
We repair all brands of stove clocks and microwave timers
PH#: 918-791-9309
Preferred Contractors Board Repair
PH#: 281- 584- 0660

ApplianceTimers.com - A unit of Macro Point Ltd
ApplianceTimers.com rebuilds electronic and mechanical appliance timers for all popular brands of ranges, washers, dryers and dishwashers. Canada and USA.
PH# 1-888-606-0090

National Timer
PH#:1-519-653-0212
---
If waiting for a rebuilt part is not an option or yours cannot be repaired, try RepairClinic.com for all of your new appliance parts needs.