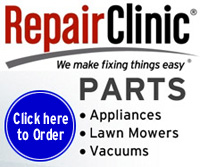 Due to high costs for keeping this site running, please consider making a donation.
Friday, September 4th is Force Friday! Go to Walmart.com for the latest Star Wars movies and to relive earlier movies and TV shows on DVD, Blu-ray and Video on Demand by VUDU. You'll also find exciting Star Wars video games, Star Wars books and Star Wars toys, including action figures, LEGO Star Wars sets and more. You can even deck out your home with Star Wars-themed bedding and wall art. Plus, even more exciting news, you'll find a bunch of new Star Wars products and Walmart.com exclusives! In addition, you can get free shipping on orders $50+. And may the Force be with you!
Star Wars- A New Generation is here. Be part of the story & save big at Walmart.com!
Appliance repair help and repair parts...
RepairClinic.com is the trusted online store with 1,000,000+ replacement parts and maintenance products for 160 appliance, outdoor power equipment and heating and cooling equipment brands

Dishwasher Access Panel Removal
There are many different styles of dishwashers built today. One of these should point you in the correct area's to look for the screws that hold the access panels on the dishwasher. Remember, remove power first.
The most common configuration of the access panels used today...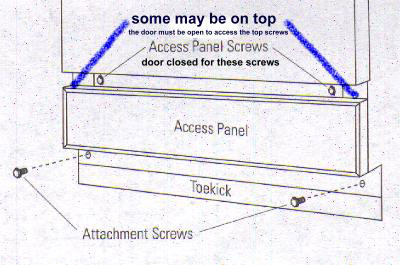 This is the newer "over sized" door, looks like a one panel front, but there still is small access panels on the very bottom....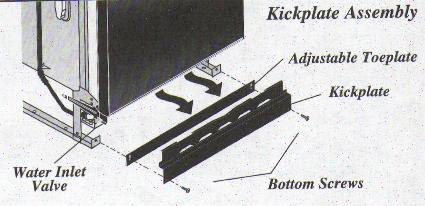 Some Asko Dishwashers....
2 Torx # 20 screws hold the toe plate on. Once toe plate is off, 2 Torx screw hold the lower panel on and the 2 brackets the hold the toe plate on have a springy locking tab, press the tab away from the bracket and the brackets will pull straight out. The service panel has 4 or 6 Torx screws holding it on, 2 are pointing up in the corners.
Removing the inner door panel on a newer style Maytag dishwasher - picture one, picture two.
Some Kitchen Aid, Whirlpool or Kenmore Electronic dishwashers...
Access help....Outer panels - Control console.
---
Dishwasher Parts