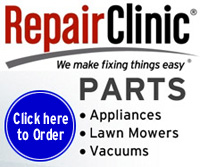 Due to high costs for keeping this site running, please consider making a donation.
Save on Back to College Shopping at Walmart.com!
More Everyday Beauty and Health Items for Back to College Available at Walmart.com!
Find School Supplies at a Great Price at Walmart.com!
Dishwasher repair help and repair parts...
Dishwasher References - Dishwasher Maintenance Tips - Frequently Asked Questions

Glowing Ice Cubes - Pink
$19.99
Light up the night with our?pink glowing ice cubes. They are perfect for parties, special occasions and can be...[Read More]
Garage Refrigerator
A freezer only ( chest or upright ) will often operate fine all year round, but a frost free refrigerator will usually quit during the cold winter months, especially in an unheated garage...
A refrigerator is meant to operate in normal room temps ( 68-71ºF ). The colder the room air gets around the refrigerator the less it will run. The closer the rooms air temperature gets to the normal fresh food section air temperature ( 37-40ºF ), the less the refrigerator will run and we risk the freezer thawing out.
Under extreme cold/freezing situations, the oil in the compressor could thicken up and cause permanent damage to the compressor. Don't let the garage temperature drop to much below 10 degrees Celsius( 50ºF ). Otherwise, the oil becomes thick and could cause premature compressor failure.
Whirlpool builds what is called a "Gladiator" refrigerator that will work in extreme cold situations.
Frigidaire has an "garage heater kit" that I have not installed or tried out. Might help someone out if they need it.
Garage Refrigerator Heating Element Kit
---
Refrigerator Parts