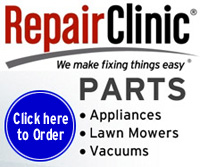 Due to high costs for keeping this site running, please consider making a donation.
A little today will help to ensure we will still be here tomorrow!
Content Article: Adopt These Money-Saving Habits This Winter
Content Article: Five Easy Fixes for Your Appliances
Content Article: Keeping Your Microwave Happy
Content Article: Range Cleaning 101
Cerama Bryte, glass-ceramic cooktop cleaner
Solid surface range element restorer
Oven cleaning kit, includes (1) expanding sponge, (1) scrubbing sponge, (1) scraper
Content Article: Quick & Easy Fridge Fixes
Content Article: 7 Simple Dryer Repairs You Can Do Yourself
Refrigerator Start Relay Repair Helps
Examples of ohm meter testing a compressor start relay and compressor. Do keep in mind that they can ohm ok but still be bad! Ohming and checking as good is at least a good indication that the relay and/or compressor will function, but this is NOT written in stone!
Remove the bail wire holding the relay/overload to the compressor. Remove the two wire connector from the relay/overload. Pull the relay/overload straight off the compressor. Shake the device and see if you notice any rattling sound that would indicate the relay/overload needs to be replaced. This is a common problem found mostly on Whirlpool/ Kenmore/ Kitchen Aid refrigerators. Most of the defective relays/overloads were installed on Embraco compressors. Use an ohmmeter set on the lowest scale to check the relay from the two terminals on the front of the case. The meter should indicate a resistance of between 3 and 26 ohms. A defective relay will measure zero (0) ohms (shorted) or infinite resistance (open). Remove the relay/overload and look at the three pins on the compressor. They are arranged in a triangle configuration. The pin at the top of the triangle is the common terminal. The two pins below the common terminal are Start on the left and Run on the right. This configuration can also be opposite with the common terminal or top of the triangle on the bottom. Set the ohmmeter on the RX10 scale. Measure the resistance of the start windings between the Common terminal and the Start terminal. Ohmmeter should indicate between 3 and 11 ohms. Measure the resistance of the run windings between the Common terminal and the run terminal. Ohmmeter should indicate between 1 and 5 ohms. Measure between each terminal and the compressor body. Ohmmeter should indicate infinite resistance (1). Any other reading would indicate a shorted compressor.
Some picture helps from Rick's Appliance Repair.
---